Nepal, nestled in the heart of the majestic Himalayas, is a paradise for climbers from around the world. With its awe-inspiring peaks, diverse landscapes, and rich mountaineering history, Nepal offers a plethora of captivating climbing routes. From the legendary Mount Everest to lesser-known peaks, there is something for every level of experience and aspiration.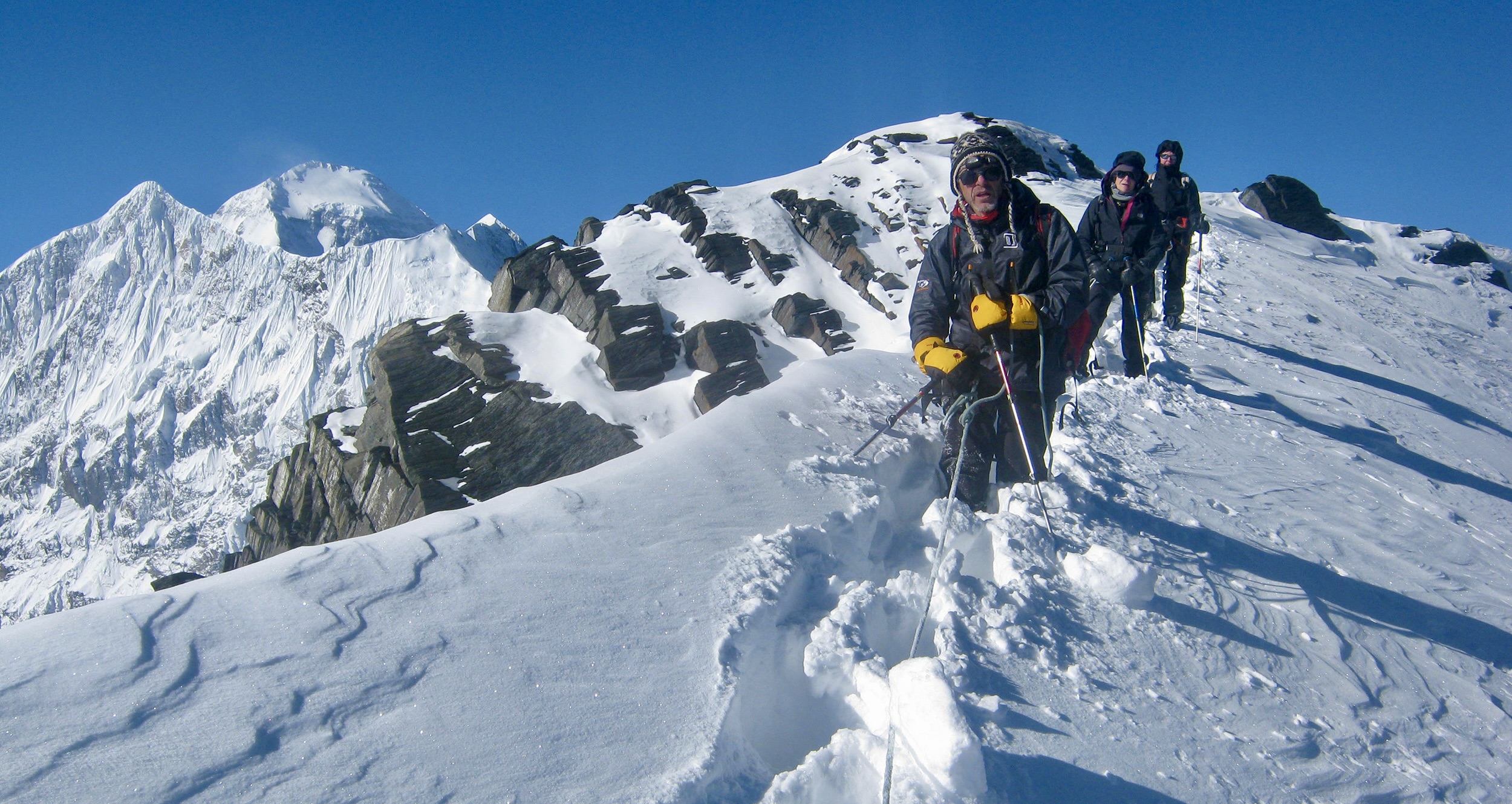 The climbing routes in Nepal present a unique blend of adventure, natural beauty, and cultural immersion. Trekking to the base camps of iconic mountains such as Everest and Annapurna serves as a stepping stone for many climbers. These base camps not only offer breathtaking views but also act as launching points for exhilarating summit attempts.
Nepal's climbing routes range from technically challenging and demanding expeditions to more accessible peaks suitable for climbers with intermediate skills. Mountaineering enthusiasts can choose from a variety of routes, each with its own allure and set of challenges. The routes often traverse through picturesque valleys, quaint villages, ancient monasteries, and diverse ecosystems, providing climbers with an immersive experience of Nepal's natural and cultural heritage. The towering peaks, cascading glaciers, and serene alpine landscapes create a mesmerizing backdrop for every ascent.
It is important to note that climbing in Nepal requires thorough preparation, physical fitness, and adherence to safety guidelines. Seeking the assistance of experienced guides, and joining reputable and prioritizing responsible and sustainable mountaineering practices are essential for a successful and memorable climbing expedition in Nepal.
Here are some key details about the Best Climbing Routes in Nepal.
Mount Everest via South Col Route
Climbing Mount Everest via the South Col Route is a dream for many mountaineers. It's the most common and arguably the "easier" route when compared to the North Col Route from Tibet, although any climb of Everest is extremely challenging and dangerous due to high altitude, harsh weather conditions, and technical climbing requirements.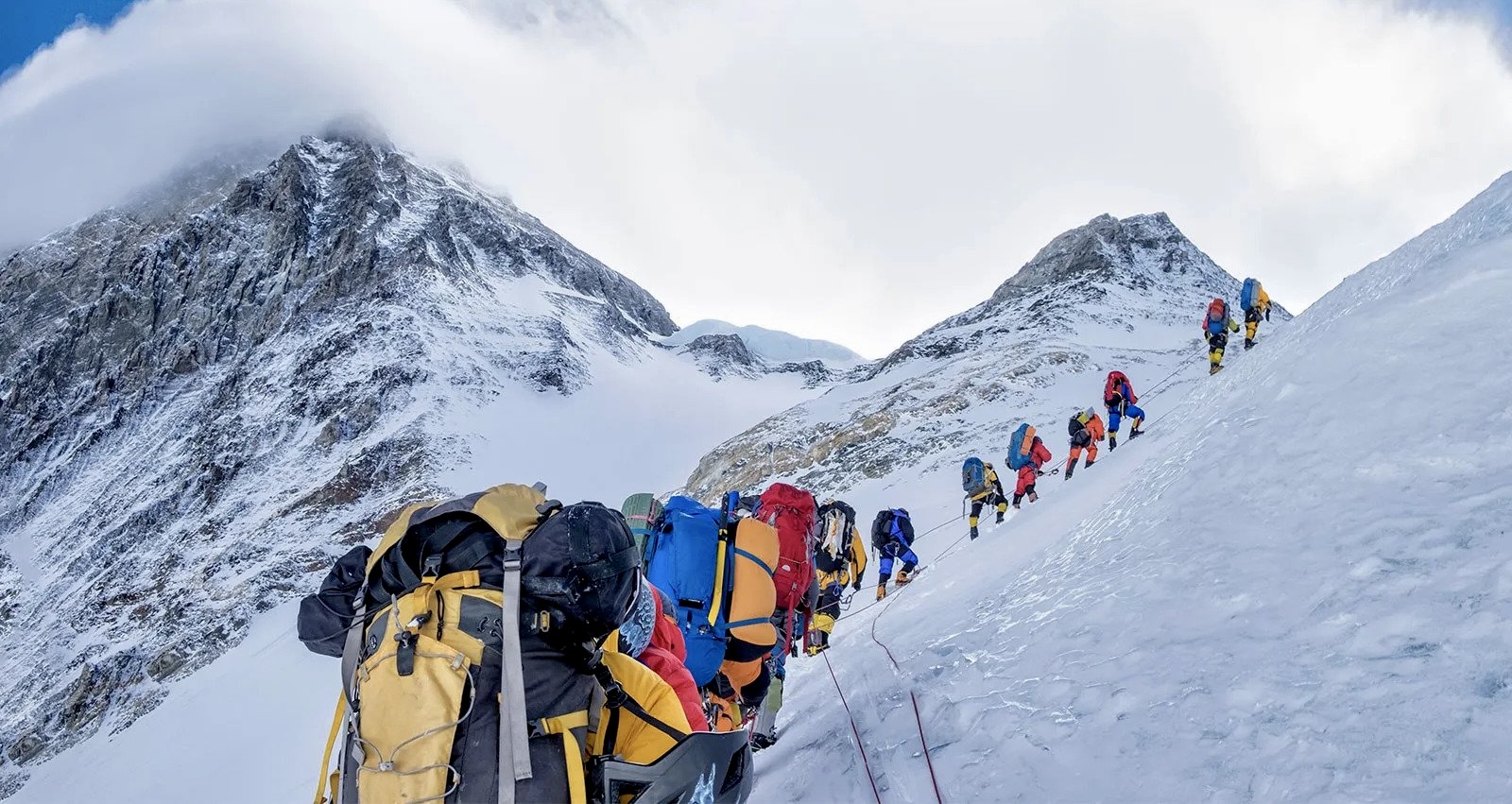 The South Col Route was the route taken by Sir Edmund Hillary and Tenzing Norgay when they made the first successful ascent in 1953. Here is a brief overview of the main stages:
Lukla to Everest Base Camp (EBC)
The journey begins with a flight from Kathmandu to Lukla. From Lukla, climbers trek through the Khumbu region to reach the Everest Base Camp (EBC). This trek, which usually takes about a week, allows climbers to acclimatize to the increasing altitude and also enjoy the local culture and stunning scenery.
Everest Base Camp (5,380 meters) to Camp 1 (6,000 meters)
This segment of the route includes the Khumbu Icefall, one of the most dangerous sections of the climb, with deep crevasses and unstable seracs. Climbers usually make this ascent at night when the ice is more stable.
Camp 1 to Camp 2 (6,400 meters)
Climbers cross a series of crevasses before reaching Camp 2 in the Western Cwm, a flat, wide valley with minimal technical challenges. The main issue in this area is the potential for intense solar radiation, reflected off the surrounding snow and ice.
Camp 2 to Camp 3 (7,200 meters)
This part of the climb involves scaling the Lhotse face, a steep wall of blue ice. Fixed ropes are usually in place, and the climbing can be physically demanding, but not highly technical.
Camp 3 to Camp 4/South Col (7,920 meters)
The route continues up the Lhotse face to the South Col. This high camp is situated on a narrow saddle between Everest and Lhotse, the fourth-highest mountain in the world.
Camp 4 to the Summit (8,848 meters)
The final push to the summit usually starts around midnight and can take over 12 hours. Climbers will pass landmarks such as the "Balcony", a small platform, and then continue onto the "Hillary Step", a near-vertical rock face of around 12 meters. Once this challenging feature is overcome, the summit is a comparatively easy, gentle climb.
Remember, this is a high-altitude mountaineering expedition, which comes with inherent risks and dangers. It requires excellent physical conditioning, proper acclimatization, high-altitude experience, and technical climbing skills. Additionally, climbers should always consider the environmental impact of their expeditions and aim to minimize it wherever possible.
If you need any further information, please contact us, Email: at [email protected], Phone: at +977- 985 100 5129 (WhatsApp)
Ama Dablam via Southwest Ridge
Ama Dablam is a strikingly beautiful peak located in the Everest region of the Nepalese Himalayas. At 6,812 meters (22,349 ft), it's not as high as some other Himalayan peaks, but it is considered one of the most technical and challenging. The most popular and typically safest route is via Southwest Ridge.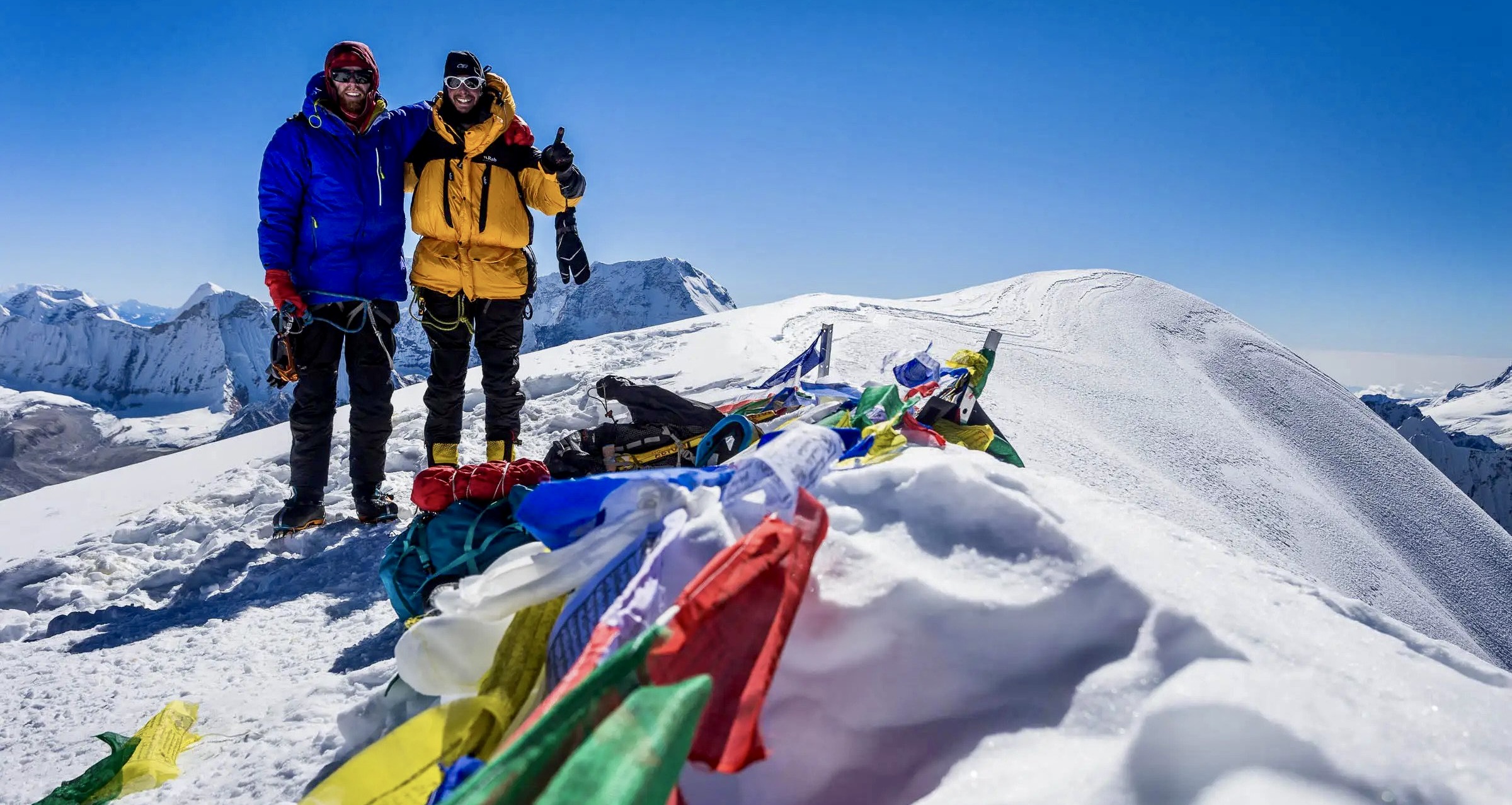 Here's a broad overview of the climb:
Lukla to Base Camp
Like many climbs in the region, your journey will likely start with a flight from Kathmandu to Lukla. From Lukla, climbers trek to Namche Bazaar, the gateway to the high Himalayas, and then on to Ama Dablam Base Camp. This trek generally takes a few days and helps with acclimatization.
Base Camp (4,570 meters) to Camp 1 (5,700 meters)
From Base Camp, climbers make their way up the southwest ridge to Camp 1. This involves climbing up scree and boulder fields and then moving through a grassy plateau.
Camp 1 to Camp 2 (5,900 meters)
The climb from Camp 1 to Camp 2 is steep and involves sections of rock and snow climbing. You'll move through a series of towers and ridges.
Camp 2 to Camp 3 (6,300 meters)
From Camp 2 to Camp 3, the climbing becomes more demanding, with some highly technical sections. Climbers will be dealing with mixed terrain (rock, snow, and ice). This section is where most of the technical climbing of the Southwest Ridge route occurs.
Camp 3 to the Summit (6,812 meters)
The final push to the summit involves snow and ice climbing. From Camp 3, climbers traverse across steep snow slopes to reach the summit. The summit of Ama Dablam offers stunning panoramic views of many of the world's highest peaks including Everest, Lhotse, and Makalu.
Ama Dablam is not a peak to be taken lightly, with high technical difficulty and objective dangers such as rock fall and avalanches. It's recommended for experienced climbers with strong technical climbing skills in rock and ice terrain. As always, proper acclimatization, favorable weather conditions, and experienced guides can greatly increase the chances of a successful summit.
Island Peak (Imja Tse) via Normal Route
Island Peak, also known as Imja Tse, is a popular choice for climbers looking to acclimatize and gain some experience before tackling higher and more difficult peaks in the Himalayas. Standing at 6,189 meters (20,305 feet), it's a substantial climb but less technical compared to other Himalayan ascents.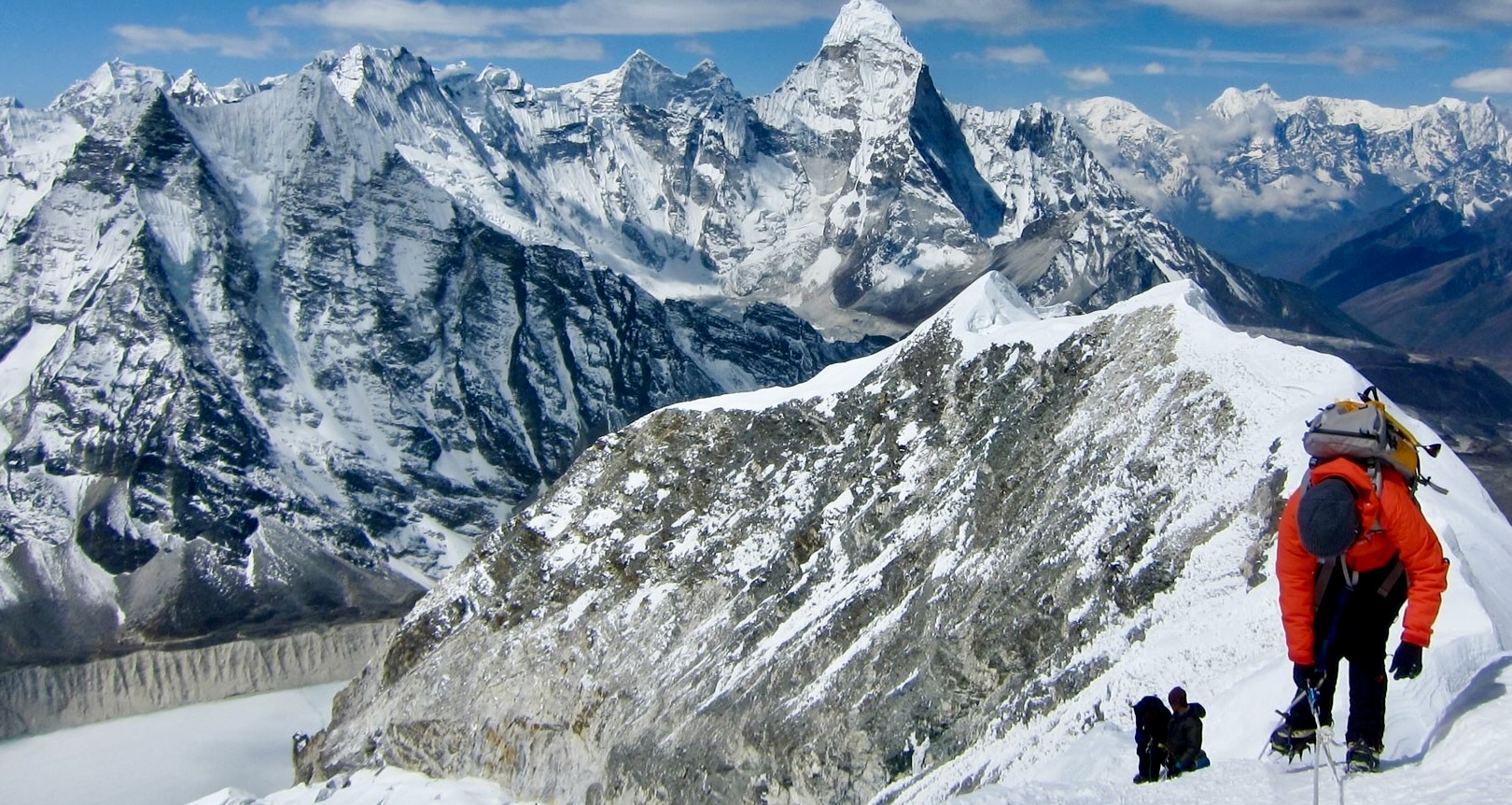 Here's a general outline of the climbing route:
Lukla to Island Peak Base Camp
Like most Himalayan expeditions, your journey will start with a flight from Kathmandu to Lukla. Then, you'll trek through the Khumbu region, passing through villages like Namche Bazaar and Dingboche, before reaching the Island Peak Base Camp. This trek typically takes several days and allows climbers to acclimatize to the altitude.
Base Camp (5,087 meters) to High Camp (5,600 meters)
Depending on the condition of the climbers and the weather, some expeditions establish a high camp. The path is a steep walk on an old moraine, followed by a climb over a rocky ridge.
High Camp to the Summit (6,189 meters)
The final push to the summit involves a challenging steep snow slope that leads to a narrow ridge, culminating in the summit. This section can be more demanding and may require the use of ropes, crampons, and ice axes, especially for the final 100-200 meters, which is a steep ice and snow climb.
The Normal Route on Island Peak is not highly technical, but climbers should be in good physical condition and have some basic experience with using climbing equipment like crampons, harnesses, and ice axes. It's always recommended to undertake such climbs with an experienced guide or guiding company.
Remember that even "easier" peaks like Island Peak involve serious altitude and can be challenging due to weather, conditions, and the physical demands of high-altitude climbing. Always prioritize safety and make sure to properly acclimatize to prevent altitude sickness.
Mera Peak via Standard Route
Mera Peak, at 6,476 meters (21,247 ft), is one of the highest trekking peaks in Nepal. It's often chosen by climbers who are looking to gain high-altitude experience without encountering too many technical challenges. The Standard Route is the most common way to climb Mera Peak and is considered relatively straightforward for seasoned hikers with some basic mountaineering training.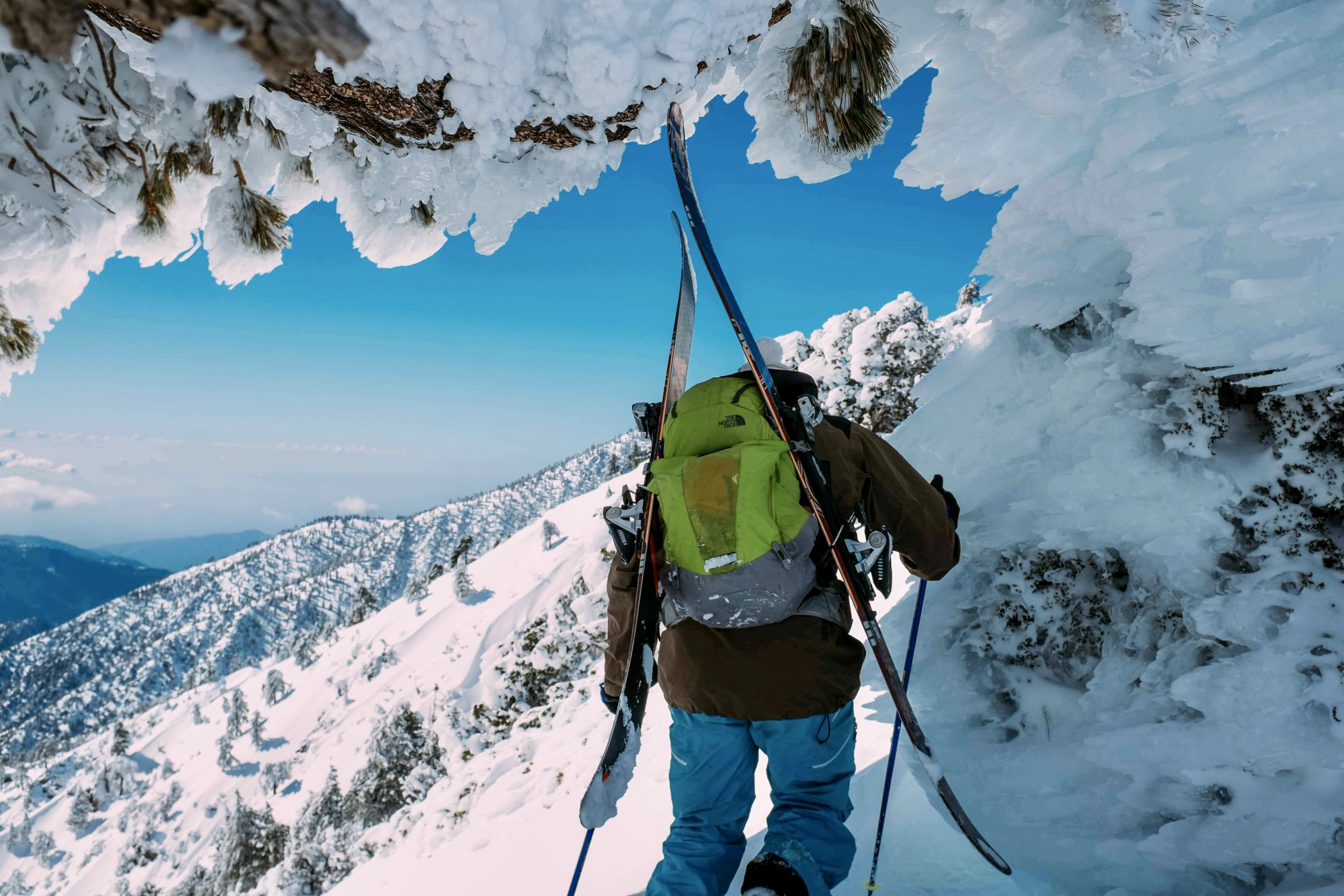 Here's a general outline of the route:
Lukla to Mera Peak Base Camp (4,800 meters)
The journey generally starts with a flight from Kathmandu to Lukla. The trek to Mera Peak Base Camp usually takes about 8-10 days, passing through the lush landscapes of the Hinku Valley and offering an excellent opportunity for acclimatization.
Mera Peak Base Camp to High Camp (5,800 meters)
From Base Camp, climbers ascend to High Camp. This route includes glacier travel, and although it's not technically challenging, it can be physically demanding due to the altitude and the distance covered.
High Camp to the Summit (6,476 meters)
The climb from High Camp to the summit is typically done in a single day. Climbers usually start early in the morning to take advantage of stable weather conditions. The route involves traversing Mera La Pass and then ascending a glacier to the summit ridge. The final section requires basic snow climbing skills, and while it's not highly technical, the altitude makes it physically demanding. From the summit, climbers enjoy panoramic views of five of the six highest mountains in the world: Everest, K2, Kangchenjunga, Lhotse, and Makalu.
For climbing Mera Peak, climbers should be in good physical condition, have some basic mountaineering skills, and be able to use crampons and ice axes. Given the risks of high-altitude mountaineering, such as altitude sickness and adverse weather conditions, a guide or a guiding company is recommended for this expedition. As always, safety should be the top priority, and proper acclimatization is key to preventing altitude sickness.
Cho Oyu via West Ridge/West Face
Cho Oyu, standing at 8,188 meters (26,864 ft), is the sixth-highest mountain in the world, located in the Himalayas. It's considered one of the more accessible and less technically challenging of the 8000-meter peaks, making it a popular choice for climbers looking to tackle their first mountain of this height. The standard and most commonly used route is via the West Ridge/West Face.
Here's a general outline of the route:
Kathmandu to Chinese Base Camp (4,900 meters)
After flying into Kathmandu, climbers usually drive to the Chinese Base Camp located on the Tibet side of the mountain. The journey involves a drive through the Friendship Highway to Tingri, followed by a short trek to the Base Camp. This portion allows for gradual acclimatization to the altitude.
Chinese Base Camp to Camp 1 (6,400 meters)
From Base Camp, climbers trek to the Advanced Base Camp (5,700 meters), which involves crossing a glacier and navigating through moraines. From there, climbers move on to Camp 1. The terrain up to this point is not particularly challenging, but the altitude can make it physically demanding.
Camp 1 to Camp 2 (7,000 meters)
The route from Camp 1 to Camp 2 involves climbing up the West Face, which includes a large, relatively stable snowfield. Fixed ropes are typically used in this section to ensure safety.
Camp 2 to Summit (8,188 meters)
The final push to the summit involves traversing a snow ridge to reach a plateau, which then leads to the summit. While this part of the climb is generally not technically difficult, the high altitude, cold temperatures, and potential for high winds make it challenging.
Despite being considered one of the easier 8000-meter peaks, Cho Oyu is still a serious mountaineering endeavor that requires proper acclimatization, solid physical conditioning, and experience in high-altitude mountaineering. Given the inherent risks and the remoteness of the location, it is highly recommended to undertake the climb with experienced guides and support. And of course, all climbers should prioritize safety, respect local customs and regulations, and minimize their environmental impact.
Manaslu via Northeast Face
Manaslu, the eighth-highest mountain in the world, is a serious undertaking for any mountaineer. Standing at 8,163 meters (26,781 ft), it offers climbers a less crowded alternative to peaks like Everest or Cho Oyu. The most commonly climbed route on Manaslu is via the Northeast Face.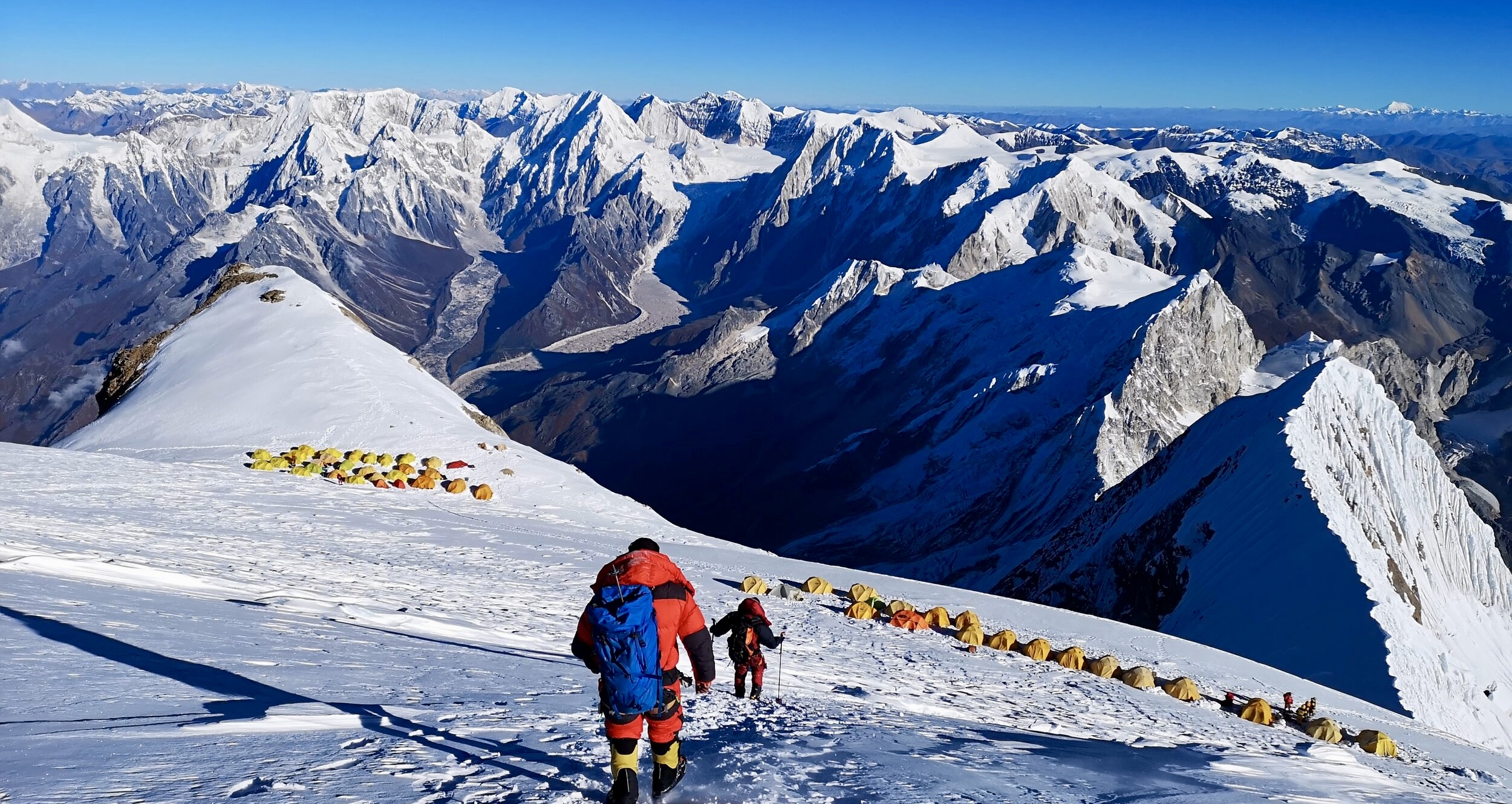 Here's a general outline of the route:
Kathmandu to Base Camp (4,850 meters)
After flying into Kathmandu, climbers will generally drive and then trek to the Manaslu Base Camp. This journey offers a fantastic trek through the Manaslu Conservation Area and provides ample opportunity for acclimatization.
Base Camp to Camp 1 (5,700 meters)
From Base Camp, climbers ascend to Camp 1. This involves negotiating through crevasses and seracs, and it can be physically demanding due to the altitude and technical aspects of the climb.
Camp 1 to Camp 2 (6,400 meters)
The route from Camp 1 to Camp 2 is considered one of the more technically challenging sections of the climb, requiring navigation through a series of ice cliffs and crevasses.
Camp 2 to Camp 3 (6,800 meters)
The route to Camp 3 generally involves a steep ascent on a face with mixed snow and ice. Fixed ropes are typically used in this section for safety.
Camp 3 to Camp 4 (7,400 meters)
This part of the climb involves navigating a system of seracs and crevasses to reach Camp 4, also known as the "death zone" due to the high altitude and low oxygen levels.
Camp 4 to the Summit (8,163 meters)
The final push to the summit can be quite challenging due to the extreme altitude, potential for high winds, and low temperatures. The route involves a steep climb on a snow slope leading to the summit ridge.
Climbing Manaslu requires significant mountaineering experience, physical conditioning, and acclimatization to high altitudes. Given the potential risks and the remoteness of the location, it is highly recommended to climb with experienced guides. Prioritize safety at all times, respect local customs and regulations, and remember the "Leave No Trace" principles to minimize environmental impact.
If you need any further information, please contact us, Email: at [email protected], Phone: at +977- 985 100 5129 (WhatsApp)
Lobuche East
Lobuche East is one of the most popular trekking peaks in Nepal's Everest region. It stands at an altitude of 6,119 meters (20,075 feet) and is an excellent challenge for climbers looking to move beyond trekking and into the realm of Himalayan peak climbing. The standard route for climbing Lobuche East is via the South Ridge.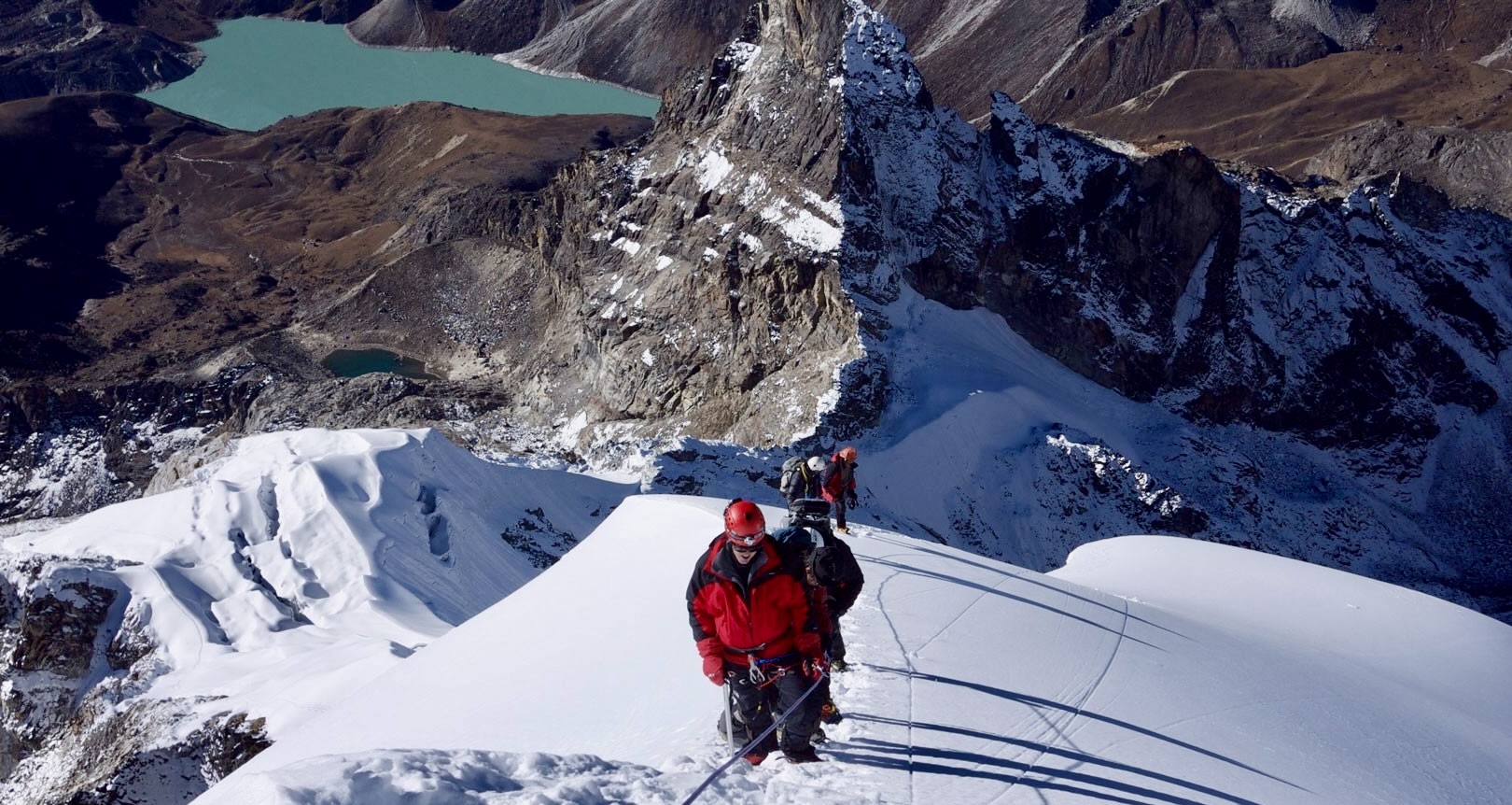 Here's a broad overview of the route:
Lukla to Lobuche Base Camp (4,950 meters)
Your journey typically begins with a flight from Kathmandu to Lukla. From Lukla, you will trek through the Khumbu region, passing villages like Namche Bazaar, Tengboche, and Dingboche, before reaching the Lobuche Base Camp. This trek usually takes about a week and provides excellent opportunities for acclimatization.
Lobuche Base Camp to High Camp (5,400 meters)
The trek from Base Camp to High Camp involves crossing a glacier and a steep climb. The High Camp is typically set up near a small lake, which is a good water source.
High Camp to Summit (6,119 meters)
The final push from High Camp to the summit is steep and often requires the use of fixed ropes. You will ascend through a series of small rock steps to reach a ridge, followed by a sharp snow ridge leading to the true summit. The route can be technically challenging, but most fit and acclimatized climbers with some basic mountaineering skills can make it to the top.
The summit of Lobuche East offers stunning panoramic views of Himalayan giants like Everest, Lhotse, Nuptse, Makalu, and Ama Dablam.
Important notes for Best Climbing routes in Nepal
While climbing in Nepal offers a unique adventure and the opportunity to experience some of the world's highest and most iconic mountains, it's critical to remember that mountaineering in high altitudes presents substantial risks. Here are some essential notes for anyone planning to embark on these climbs:
Acclimatization
Acclimatization refers to the process of the human body adjusting to changes in its environment, such as variations in temperature, humidity, and, most importantly for high-altitude climbing, decreased levels of oxygen. When ascending to higher altitudes, the amount of oxygen in the atmosphere decreases, which can cause a range of symptoms, from mild to life-threatening, collectively known as altitude sickness or acute mountain sickness (AMS).
When climbing in high-altitude regions, such as the mountains of Nepal, it's crucial to allow your body to acclimatize to the decreasing levels of oxygen. This process typically involves a gradual ascent, giving the body time to adjust to the lower oxygen levels.
Here are a few key principles for effective acclimatization:
Climb High, Sleep Low: During the day, you can climb to higher altitudes, but it's important to descend to sleep at a lower altitude. This gives your body a taste of the thinner air higher up but lets it recover and acclimate overnight at a lower, more oxygen-rich altitude.
Gradual Ascent: Avoid increasing your sleeping elevation by more than 300-500 meters (about 1,000-1,500 feet) per day once you pass about 2,500-3,000 meters (8,000-10,000 feet). You should also take a rest day (with no ascent to sleep) every 3-4 days.
Stay Hydrated and Nourished: Drinking plenty of water and eating a balanced diet can help your body acclimatize. However, it's essential to avoid alcohol and minimize caffeine intake, as these can exacerbate dehydration.
Know the Symptoms of Altitude Sickness: Headache, fatigue, dizziness, nausea, and shortness of breath can all be signs of altitude sickness. If you or any member of your group begins to show these symptoms, it's essential to stop ascending and descend if the symptoms do not improve.
Medication: Medication like Acetazolamide (Diamox) can help prevent and treat altitude sickness. However, it's crucial to discuss this with a healthcare provider before your trip, as it may not be suitable for everyone.
Remember that everyone acclimatizes at a different rate, so it's crucial to listen to your body and not to push yourself too hard, too fast. Even highly fit individuals can experience altitude sickness if they ascend too quickly. The key to successful acclimatization is patience and a willingness to adjust your plans to your body's needs.
Physical Conditioning
Physical conditioning for high-altitude climbing is an essential aspect of your preparation. High-altitude climbing requires a high level of fitness and endurance, and the physical demands of the climb can be extreme.
Here are a few areas to focus on when preparing for a high-altitude climb:
Cardiovascular Fitness: Cardiovascular or aerobic fitness is crucial as it helps your body use oxygen more efficiently, a key factor in high-altitude climbing where oxygen levels are lower. Activities to improve cardiovascular fitness include running, swimming, cycling, or any other activities that get your heart rate up for extended periods.
Strength Training: Climbing will engage most muscle groups in your body, with a particular emphasis on the legs and core. Include strength training exercises in your routine that target these areas, such as squats, lunges, deadlifts, and planks.
Endurance: Long days of trekking at high altitudes require significant endurance. This can be built up through long-distance running, swimming, or cycling. Hiking with a weighted pack can also be beneficial, as it simulates the load you'll carry during your climb.
Flexibility: Being flexible can help prevent injuries. Incorporate a routine of stretching exercises into your training to maintain and improve your flexibility.
Altitude Training: If possible, try to spend some time at a high altitude before your climb to help your body acclimatize to the thin air. This is not always possible, but if you live near mountains, take advantage of them.
Mental Preparation: Mountain climbing is as much a mental challenge as a physical one. Preparing yourself mentally for the challenges of the climb, including discomfort, fatigue, and fear, is crucial.
Remember, everyone is different, and what works best will depend on your current fitness level, any pre-existing health conditions, and the specific demands of the climb you are planning. Always consult with a health or fitness professional before beginning a new fitness program. Consistency in training and gradual progression is key to improving your fitness level and preparing for the climb. Lastly, listen to your body and rest as needed to prevent injuries and overtraining.
If you need any further information, please contact us, Email: at [email protected], Phone: at +977- 985 100 5129 (WhatsApp)
Mountaineering Skills
Mountain climbing, particularly at high altitudes or on technically demanding peaks, requires a broad range of skills. The exact skills needed will depend on the nature of the climb, but here are a few of the fundamental mountaineering skills that every climber should know:
Navigation: Being able to navigate using a map, compass, and GPS is critical, especially in poor visibility conditions or if the route is not clearly marked.
Rope Skills: This includes knowing how to tie and use various knots, belaying, rappelling (abseiling), rope coiling, and understanding rope systems used for glacier travel and crevasse rescue.
Crampon and Ice Axe Use: Crampons and ice axes are fundamental tools for climbing on snow and ice. You need to know how to use them effectively and safely.
Crevasse Rescue: In glacier environments, understanding crevasse rescue techniques is essential. This includes setting up pulley systems and hauling techniques.
Avalanche Safety: Recognizing avalanche terrain, understanding how weather affects avalanche risk, and knowing how to use avalanche rescue equipment (like transceivers, probes, and shovels) are important skills for climbing in snowy or glaciated areas.
Climbing Techniques: Depending on the mountain, you may need to be comfortable with rock climbing, ice climbing, or snow climbing techniques, including the use of protection devices (like cams, nuts, ice screws, etc.)
Acute Mountain Sickness (AMS) Recognition: Being able to recognize and manage symptoms of altitude sickness is critical when climbing at high altitudes.
Camp Craft: This includes setting up tents in various conditions, cooking on a camp stove, and managing waste in an environmentally friendly way.
First Aid: Having a solid understanding of first aid, including treatment for common injuries and illnesses that occur while climbing, is crucial.
Weather Understanding: Understanding how to read weather patterns and how to act accordingly is important for safety.
Most importantly, all these skills require practice. Theoretical knowledge is a good starting point, but applying these skills in a controlled environment (like a climbing course or guided climb) will provide invaluable experience. Always remember that the mountain environment can be unpredictable and poses inherent risks, and the best way to minimize these risks is through preparation and education.
Guides and Support
Hiring experienced guides and support staff can greatly enhance the safety and success rate of a high-altitude climb. These professionals bring a wealth of knowledge and experience to the expedition, and their contributions can make the difference between a successful and enjoyable climb and a dangerous or unsuccessful one.
Here's why it's important to consider hiring guides and support staff:
Route Knowledge: Experienced guides are intimately familiar with the routes they guide, which can help ensure your party stays on the correct path and avoids potential dangers.
Safety Expertise: Guides are trained in emergency medical care and have the skills and equipment to conduct or coordinate rescues in case of an accident.
Acclimatization and Health Monitoring: Guides can monitor the health of each climber and ensure proper acclimatization schedules are followed to reduce the risk of altitude sickness.
Load Carrying: Support staff (commonly known as porters or Sherpas in the Himalayan context) can carry heavy gear and supplies, allowing climbers to conserve their energy for the climb itself.
Camp Setup and Cooking: Support staff can handle camp setup and cooking duties, which can be physically demanding at high altitudes.
Local Knowledge: Local guides have a deep understanding of the local culture, customs, and language, enhancing the overall experience of the expedition.
Training and Preparation: A good guide service will help you prepare for the climb, providing training advice, gear lists, and other important information.
Problem-Solving: Unexpected problems can and do arise on mountaineering expeditions. Experienced guides can draw upon their knowledge and experience to solve problems quickly and efficiently.
When choosing a guide service, consider factors like their safety record, the experience level of their guides, the guide-to-client ratio, and feedback from previous clients. Remember, the cheapest option is not always the best one – safety and quality of service should be your top priorities. Good communication between you and your guides is crucial, so make sure you feel comfortable with them and that all your concerns are addressed before the expedition.
Safety Equipment
Safety equipment is a critical part of any climbing expedition. Having the right gear can significantly increase your safety and comfort on the mountain. Here is a list of some of the essential safety equipment for high-altitude climbing in Nepal:
Climbing Helmet: This protects your head from falling rocks or ice.
Climbing Harness: A harness allows you to safely connect to ropes or other climbing gear.
Carabiners: Carabiners are used for a variety of purposes in climbing, including connecting to safety lines and anchoring yourself to the mountain.
Ice Axe: An essential tool for snow and ice climbing, the ice axe can be used for balance, braking during falls, and cutting steps in the snow.
Crampons: These spiked devices attach to your boots and provide traction on ice or hard snow.
Climbing Ropes: Ropes are a critical part of climbing safety, used for protection during ascents and descents.
Ascenders and Descenders: These devices are used for ascending and descending on a fixed rope.
Belay Device: This is used to control a rope during belaying – applying friction to the rope to stop the climber if they fall.
Pulleys, Prusik Cords, and Slings: These are used for crevasse rescue and to build hauling systems.
Avalanche Safety Gear: If you're in avalanche terrain, you should carry an avalanche beacon (also known as a transceiver), probe, and shovel.
First Aid Kit: Should include bandages, antiseptic wipes, blister treatment, painkillers, and any personal medication. Also consider including a high-altitude emergency kit with medications for altitude sickness, if advised by a healthcare professional.
High-Altitude Climbing Clothing: Dress in layers to accommodate changing weather conditions. Your clothing should include thermal underwear, insulating layers, waterproof and windproof outer layers, gloves, and a balaclava or neck gaiter.
High-Altitude Climbing Boots: These should be insulated and suitable for attaching crampons.
Headlamp: A powerful headlamp is important for any predawn starts or if you get caught out after dark.
Sun Protection: High-altitude sun can be extremely strong. Bring high-SPF sunscreen, lip balm, and glacier glasses or goggles with side protection.
GPS and Compass: For navigation purposes.
Satellite Phone or Radio: For emergency communication. Some climbers also use a personal locator beacon (PLB) or a similar device for emergency rescue.
This list covers the basics, but the exact equipment needed will depend on the specific climb and current conditions. It's best to consult with a knowledgeable source, such as a guide service or experienced climber, to ensure you have the appropriate gear for your specific climb. Remember, having the equipment is one thing, but knowing how to use it effectively is just as important, so make sure you are familiar with all of your gear before setting out.
Weather
The weather in Nepal's high-altitude regions, where most of the climbing takes place, is strongly influenced by the seasonal monsoon and can be extreme and unpredictable. Understanding the general weather patterns is crucial when planning a climbing expedition in Nepal.
Spring (March to May): Spring is one of the most popular times to climb in Nepal, as the weather tends to be relatively stable and warmer than in the autumn and winter months. However, temperatures can still drop significantly at night and at higher elevations, and afternoon clouds and storms can occur.
Summer (June to August): This is the monsoon season in Nepal when the country receives the majority of its annual rainfall. While the lower regions turn green and lush, the high mountains are often shrouded in clouds, with heavy snowfall and frequent storms at higher altitudes. This makes summer a less popular and potentially dangerous time for high-altitude climbing in Nepal.
Autumn (September to November): This is another popular time to climb in Nepal, and is considered by many as the best time for high-altitude climbing. The monsoon has just ended, so the skies are typically clear, offering excellent mountain views. The weather is generally dry and stable, although it can be quite cold, especially at higher altitudes and during the night.
Winter (December to February): The winter months can be extremely cold in the high mountains of Nepal, particularly at night. Snowfall can make some routes impassable or highly dangerous. However, the weather can also be quite stable, with clear skies much of the time.
In addition to these general patterns, it's important to note that weather in the high mountains can change rapidly, and severe storms can occur without much warning at any time of year. Therefore, it's always important to monitor the weather closely during your climb and be prepared to adjust your plans if necessary.
When planning your climb, check long-term weather averages to choose the best time of year for your expedition, but also check short-term weather forecasts regularly as your climb approaches and during your climb to make sure conditions are safe. Finally, keep in mind that climate change is causing increasingly unpredictable weather patterns in many regions, including the Himalayas.
Permits and Regulations
Anyone wishing to climb in Nepal, particularly on the more popular and higher peaks, needs to obtain a climbing permit. The permit system is designed to regulate climbing to ensure safety and minimize environmental impact.
Here are the general steps and considerations involved in getting a climbing permit in Nepal:
Choose Your Peak and Route: Different peaks have different permit requirements and fees. The highest and most popular peaks are classified as expedition peaks (like Everest, Lhotse, and Kanchenjunga), while smaller and less frequently climbed peaks are classified as trekking peaks (like Island Peak and Mera Peak).
Apply Through a Registered Agency: Climbing permits are issued only to expeditions organized and accompanied by a registered Nepalese mountaineering agency like Luxury Holidays Nepal.
Complete the Required Documentation: This will typically include a completed application form, a copy of your passport, and four passport-size photos. You may also need to provide a health certificate and proof of insurance that covers emergency evacuation and repatriation.
Pay the Permit Fee: The fee will depend on the peak, the season, and your group size. The permit fee for Everest ranges from $5,000 to $11,000 per person, depending on the season and route.
Obtain Additional Permits if Necessary: In addition to the climbing permit, you may need additional permits for access to certain areas, such as the Sagarmatha National Park permit for Everest or the Annapurna Conservation Area permit for peaks in the Annapurna region.
Follow All Rules and Regulations: The permit will come with certain conditions that you must abide by, such as following the designated route, not leaving any trash on the mountain, and respecting local customs and laws.
Remember that the exact requirements can change, so it's important to check the latest information from a reliable source, such as the Nepal Mountaineering Association (NMA) or the Ministry of Culture, Tourism and Civil Aviation in Nepal.
Also, note that these requirements are intended to ensure that climbing in Nepal is conducted safely and sustainably, with minimal impact on the local environment and communities. It's important to respect these regulations, not only for your own safety and enjoyment but also for preserving these amazing mountains for future generations.
Health and Hygiene
Maintaining health and hygiene is crucial when you are on a multi-day climb in remote areas, such as those in Nepal. Here are some key considerations:
Hydration: High-altitude environments are often very dry, and the physical exertion of climbing increases your need for water. However, all water should be treated to eliminate bacteria and parasites. This can be done through filtration systems, iodine or chlorine tablets, or boiling.
Food: You need high-calorie food to fuel your climbing efforts, but you also need to ensure it is safe to eat. Pre-packaged meals can be a good option, as can cooking for yourself with properly handled and stored ingredients.
Personal hygiene: It's important to keep yourself as clean as possible to prevent skin and other infections. Wet wipes can be a convenient option for personal cleaning. Hand sanitizer should be used regularly, especially before meals.
Toilet facilities: In many trekking and climbing areas in Nepal, basic toilet facilities are provided, but it's possible you may have to go in the wild. In such cases, be sure to bury any waste or, better yet, carry out everything you bring in to protect the environment. Some expeditions will provide portable toilet systems for this purpose.
Altitude sickness: Altitude sickness is a serious risk when climbing in high-altitude environments like the Himalayas. It is vital to acclimatize properly, ascend slowly, and monitor yourself and your teammates for symptoms of altitude sickness, which can include headache, nausea, fatigue, and difficulty sleeping. Descend immediately if severe symptoms occur.
First Aid: You should carry a comprehensive first aid kit that includes bandages, antiseptic wipes, blister treatment, painkillers, and any personal medication.
Travelers' illnesses: Travelers' diarrhea can be a common issue due to changes in diet and water sources. Rehydration salts and anti-diarrheal medication can be useful to carry. Vaccinations may be necessary for certain areas of Nepal, so check with your healthcare provider.
Sun and cold protection: The sun at high altitudes is intense, so bring high-SPF sunscreen, lip balm, and glacier glasses or goggles with side protection. Insulating, windproof and waterproof clothing and equipment will protect you from the cold.
Fitness: Good physical fitness will not only make the climb more enjoyable, it will also reduce your risk of injury and complications from altitude sickness.
Remember, every individual is different, so it's best to seek advice from a healthcare professional or a seasoned climber or guide who knows the specific conditions and challenges you may face on your particular climb.
Travel Insurance
Travel insurance is a critical consideration for any international trip, but it's especially important for high-risk activities like mountaineering in remote areas such as Nepal. Here are some key factors to consider when looking for travel insurance for a climbing trip:
Medical Coverage: Make sure your policy includes coverage for medical expenses. This should include not just treatment costs but also evacuation costs in case you need to be airlifted off the mountain or transported to a better-equipped hospital in another city or country.
High-Altitude Coverage: Many travel insurance policies exclude high-altitude mountaineering by default, considering it a high-risk activity. You'll likely need to purchase a special policy or rider that specifically covers mountaineering, and you should make sure it covers you up to the maximum altitude of your climb.
Rescue and Repatriation: Check that your policy covers the cost of search and rescue operations and the repatriation of remains in case of a fatal accident. Note that rescue operations in mountainous regions can be very expensive, often involving helicopters and highly trained personnel.
Trip Cancellation and Interruption: This covers non-refundable expenses if you have to cancel your trip before departure or cut it short due to covered reasons. Make sure you understand the terms, conditions, and exclusions of this coverage.
Lost, Stolen, or Damaged Equipment: If you're bringing expensive mountaineering gear, consider a policy that covers loss, theft, or damage of your equipment.
Coverage for Other Activities: If you plan on doing other activities during your trip, like trekking, paragliding, or rafting, make sure they are also covered by your policy.
Pre-existing Conditions: If you have pre-existing medical conditions, check if they are covered. Some policies may exclude claims related to pre-existing conditions unless certain requirements are met.
Insurer's Reputation and Service: Look for a reputable insurer that is known for good customer service and fair and prompt handling of claims.
Remember, the cheapest policy may not provide the coverage you need. Read the policy details carefully, including the fine print, and make sure you fully understand what is covered and what is not. If in doubt, contact the insurance company directly to clarify.
Luxury Holidays Nepal is the best Climbing and Expedition agency in Nepal
Luxury Holidays Nepal (LHN) stands as a prominent climbing and expedition agency in Nepal. This reputation is built upon their exceptional local expertise, high-level service, and customized luxury tour offerings. Regardless of whether you're seeking an adrenaline-fueled climbing experience or a meticulously organized expedition, LHN provides unforgettable journeys tailored to your specific needs.
Here are the reasons why LHN shines as a top choice for climbing and expedition endeavors:
Superior Local Expertise: As a Kathmandu-based agency, LHN offers unparalleled knowledge about Nepal's mountains, routes, and local customs. Their guides are not just familiar but intimately acquainted with the terrain they navigate, ensuring a safe and engaging experience for the adventurers.
Customized Journeys: The ability to tailor your climbing expedition according to your preferences sets LHN apart. You can customize routes, acclimatization schedules, and even opt for luxury accommodations wherever available, leading to a personalized and fulfilling expedition experience.
Comprehensive Service: LHN takes pride in its all-encompassing service, managing everything from airport pickups to permits, accommodation, meals, and more. This end-to-end care lifts off the burden of logistical worries and allows you to fully immerse in the adventure that awaits.
Safety as a Priority: Safety is the cornerstone of every LHN trip. Recognizing the risks inherent to high-altitude climbing, LHN ensures that every measure is taken to safeguard its clients, without compromising on the thrill of the expedition.
Commitment to Social Responsibility: Embracing the ethos of responsible tourism, LHN strives to minimize the negative impacts on the environment and local communities. Their commitment to sustainable practices not only elevates your experience but also contributes positively to the regions you explore.
Luxury Offerings: LHN brings a touch of comfort to the rugged outdoors with its luxury travel options. They cater to clients who prefer a more comfortable experience, offering higher-end lodges and extra amenities to enrich your expedition.
Nepal, renowned as the home of the mighty Himalayas, is a paradise for mountaineering enthusiasts. The most famous climbing route is the South Col route on Mount Everest, the world's highest peak. It offers an unparalleled climbing experience but demands extreme physical fitness and resilience. Another highly revered route is the Southwest Ridge on Ama Dablam, a technical climb with diverse terrain that rewards climbers with spectacular views. Island Peak (Imja Tse) offers a less technically demanding climb via its Normal Route, making it ideal for those looking to step into the world of Himalayan mountaineering. For a journey through serene wilderness and remote valleys, the Standard Route up Mera Peak is a great option. The majestic Cho Oyu, the sixth-highest peak in the world, has an accessible West Ridge/West Face route, especially appealing for its relatively low objective danger. The Northeast Face route up Manaslu, the eighth-highest peak, presents a challenge for experienced mountaineers with its long, steep, and avalanche-prone sections. Lastly, Lobuche East via South Ridge offers an excellent, less crowded alternative to some of the more popular peaks, and serves as a perfect training climb for bigger Himalayan adventures. Each of these routes provides climbers with unique experiences, breathtaking vistas, and a taste of Nepal's rich mountain culture.
If you need any further information, please contact us, Email: at [email protected], Phone: at +977- 985 100 5129 (WhatsApp)